I want to get a supply chain map and/or n-tier risk analytics. What do I need to do?
Getting a supply chain map via flat file (.csv) or n-tier risk analytics is as simple as ordering it from the website.
You'll be asked whether you want to have the supply chain mapped 2 tiers or 3 tiers upstream of your chosen target companies and how many target companies you want mapped in total.
Simply choose the product that meets your needs and proceed to checkout. Following checkout, you'll be asked to provide the additional information described in the answer above in order to trigger the mapping. 
How do the tiers work in supply chains?
Supply chains are described in tiers. Tier 1 suppliers are those suppliers you purchase from directly. Tier 2 suppliers are your suppliers' suppliers. Tier 3 are their suppliers.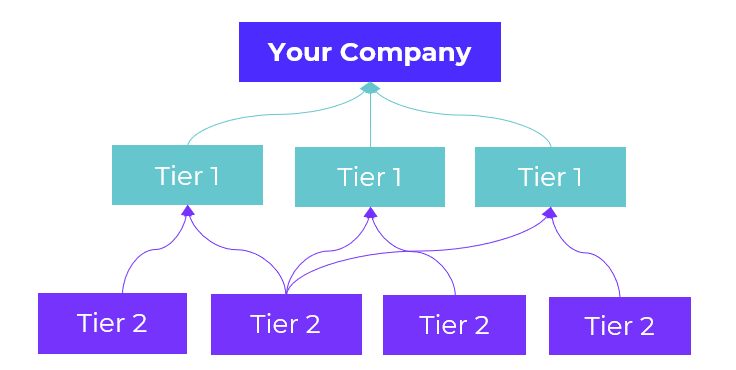 Multi-tier, sub-tier and N-tier all refer to supply chain mapping which goes beyond your Tier 1s. You might also hear people refer to "N-tier suppliers" or "sub-tier suppliers" - which mean suppliers that are in your sub-tiers (i.e. Tier 2, 3, 4 etc.)
What support do you provide?
Our team is on hand to help with any queries you have - whether it's investigating how to use n-tier visibility and risk analytics in your business, how the process works to do a mapping or tips for maximising your ROI. Just contact support@versed.ai.