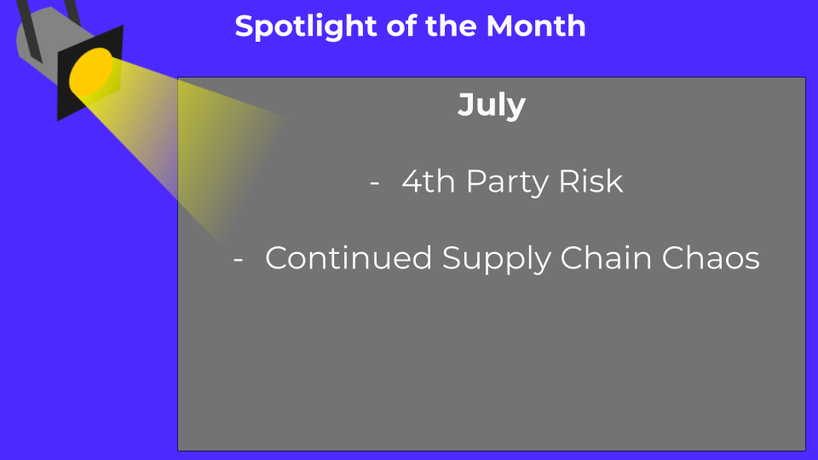 This post marks the first of Versed AI's new, monthly series, titled Spotlight of the Month,' where we summarise the key takeaways on supply chains issues from the past four weeks.

In this month's overview, we'll recap the importance fourth party mapping has for risk mitigation, as well as considering the continued role of coronavirus in disrupting supply chains, two years after the pandemic first hit. 
4th Party Risk
At the start of July we published an important article discussing 4th party risk and the critical role understanding this plays for large corporates. 
Fourth party risk is enormously increased when a company lacks clear visibility of its suppliers' suppliers, often termed 'sub-tier suppliers.' This carries a significant cyber risk, as fourth parties can be a route for backdoor access to customer information, or to breach an organisation's network. A malicious actor can use such breaches to propagte through a supply chain network, exploiting digital connectivity between customers and vendors - such as the SolarWinds cyber attack. 
Any disruption to these 4th Party vendors could also result in product shortages to a company downstream in the supply-chain, yet effects may not be felt until weeks or months after the initial disruption due to product lead times. This means companies are often left with sudden, surprise shortages for which they have no mitigation plan. 
Taking the simple step of increasing supply-chain transparency can alleviate this problem. Clearer visibility of a supply-chain allows companies to identify potential high-risk sub-tier suppliers, anticipate possible risk and produce risk-mitigation strategies accordingly. As well as understanding product-related supply chain risk, you can tighten your cyber security by identifying the 4th party vendors posing the greatest cyber threatand take action to address any potential backdoor vulnerability. In this way, you can use sub-tier supply chain visibility to transition from reactive to proactive risk management. 
Supply Chain Chaos
Over the last month we've analysed some of the many companies still suffering from pandemic-led disruption, as well as considering the potential difficulties that could face supply chains in 2023.

Mercedes faced a significant 16% decline in sales following their second quarter as a result of covid lockdowns and production shortages, leading to a heavy 25% loss in deliveries in China, the world's largest car market. The automotive giant also saw sales in Europe fall by 10% 
Equinor was forced to push back the planned installation of four wind turbines, as part of their Hywind Tampen floating wind project. The completion of these turbines have been postponed to 2023 due to shortages of metal and other key components.
Airbus predicted that the supply chain crisis currently gripping the global aerospace industry will continue well into next year. This has largely been fuelled by the lingering damage from the pandemic worsening already heavy shortages of raw materials. At the Farnborough Air Show, CEO Guillame Faury told the Financial Times: "We have difficulties to believe that in two years from now it's not going to be resolved." 

As the supply chain crisis continues, companies can improve the resilience of their supply chains through technology-enabled supply chain visibility. To find out more, contact us.